8 Best War Movies Since 2015
There is a host of war movies that opens multiple windows to landmark events in human history. From gory to triumph to disaster to glory, each war movie depicts aspects pertaining to different wars and eras. While many of these war movies are purely figments of writers, several of them are based on true stories.
Although there is nothing glorious or poetical about wars, battles have blotted our history countless times.  Even before WW I & II wreaked havoc, gray shades of epic wars overshadowed peace, prosperity, and harmony among humankind.  Many of these forgettable days are depicted in different war movies.
When the stories are based on real incidents, they become engrossing and perhaps painful. War movies like Behind the Enemy Line, Enemy at the gates, Saving private Ryan, or classics like Troy or 300 are some of my favorites. Dunkirk is a highly rated war movie too. However, the below list consists of some of the best war movies released since 2015.
Persian Lessons (2020, 2h 7m, German, French & Persian)
Inspired by true events! And if so what a life did Gilles have back then. One of the war movies that will keep you amused all throughout.  In the 1940s war driven Germany, a van full of captives is driven to be executed. A brief conversation with a fellow captive and exchange of a Persian book for half a loaf turns Giles' life forever. To stay alive, he must pretend to be a Persian. Lucky for him, Officer Koch is in search of a Persian to learn the language. While the Jews are killed around him, he is coining 'Persian words' to stay alive.
Dara from Jasenovac (2020, 2h 11m, Serbian)
Not a typical war zone movie but one that tells the sorry tale of the outcome of war crimes. A story from the WW II era. And it is enough to overwhelm you with a bout of grief and gloom. A 10-years old girl named Dara along with her family and others is captured by the Nazis in the former Yugoslavia. Her childhood is brutally stolen from her.  Despite seeing death all around her, she has reasons to survive the worst.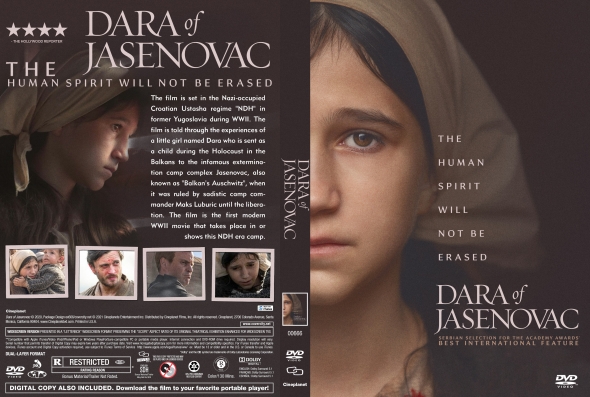 Hacksaw Ridge (2016, 2h 19m, English & Japanese)
The extraordinary courage and determination of army medic Desmond T. Doss are showcased superbly. A religious person who is totally against violence ends up on a battlefield. Even without taking a rifle or shooting an enemy, he is honored for his efforts. Despite the ordeal at the training to being arrested, Desmond proves his worth at the Battle of Okinawa. A well-woven story that unfolds different events in his life.  It is the story of a war hero for a different reason.
Unknown Soldier (2017, 2h 12m, Finnish)
Another movie revolves around WW II. In 1941, a battle breaks out between Finland and the Soviet Union. The Finnish infantry is deployed to regain territories lost to the Soviet Union during the Winter War. And to do that, they have to traverse through the Karelian forest. Contrary to the strict military regime, this Company of soldiers is full of fun and friendship. Rokka, Jorma, Urho, and Ville, and others form a bond with each other as time passes by. By the time, a ceasefire is declared in 1944, the series of battles causes losses and wounds time cannot heal. 
Battle for Sevastopol (2015, 2h 2m, Russian, Ukrainian & English)
Moscow, 1957. Upon arrival in the USSR, the First Lady of the USA wants to meet Lyudmila first. And she has a definite reason to make Mr. Khrushchev wait for her while she visits Lyudmila. In flashback, Lyudmila Pavlichenko is shown at Kiev State University in 1937. Having done well in the exams, she and her friends decided to enjoy themselves at the cinema or a gun shooting spot. That's where Lyudmila shoots for the first time and she does well at it. The shooting instructor's report catches her unawares from her classroom to be sent to a six-month shooters course. Let alone holding guns by women, killing 309 people as a sniper won her the name, 'Lady Death'.
1944 (2015, 1h 40m, Estonian, Russian & German)
One of the few recent Baltic war movies there is. Based on real incidents, the movie portrays the Battle of Tannenburg Line in 1944. The strange part of the war is Estonians fight Estonians. The Estonians forces were mobilized by both German and Soviet Armies forcing them to stand on either side of the enemy line. The big question in front of them is, 'what will you do when you meet an Estonian in Red Army uniform' or vice versa?
1917 (2019, 1h 59m, English & French)
Two British soldiers, William Schofield and Tom Blake are assigned with a duty to deliver a message to another regiment miles away. Their path is trodden with life-threatening hurdles. Having to cut across enemy territory only lessens their chances. Yet, reaching the destination to hand over the message in time is vital to avert a battle and more deaths. Blake's brother, Lieutenant Joseph is one among the 1600 men scheduled to go on the attack and could be killed! However, of the two, only Schofield could reach Joseph.
Land Of Mine (2015, 1h 40m, German & Danish)
Post-World War times are notorious for several adverse ill effects of war and war crimes. One of them being landmines planted in all potential war zones. To clear Denmark's west cost of approximately 2.2 million German landlines, German child soldiers are deployed. Hardly any of them has previous experience of diffusing mines. Under Sergeant Carl Leopold, sweeping for mines, the boys confront death all around them. The Sergeant and the boys gradually become part of history with a grim note attached. Of all the boys under Sergeant Leopold's command only four survive. And he helps them get back to their country.
Hope you enjoyed the war movie. Have you seen any of them?
Author
Deepu
A Travel enthusiast and Foodie, craving to explore the intricate beauty of nature and its gift of delectable treats. Pens down his thoughts and experiences to present a delightful journey for his readers